Automatic Processing Tool
Automatic Processing Tool
In cases where the procedures for image analysis and measurement are fixed form, analysis can be carried out more efficiently by registering thea procedure as one command.

Automatic Processing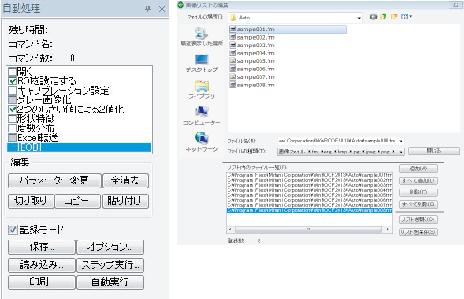 This automatic processing function creates a macro by simply carrying out actual measurement procedures in order. If you want to change the parameters for measurements, enable fine adjustments by simply checking the box next to any registered command.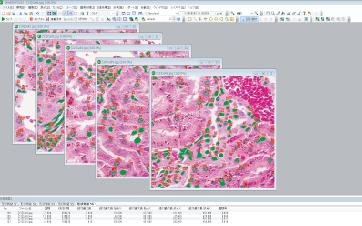 Registration of tool bar / function keys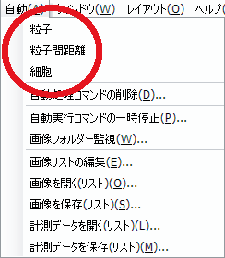 Automatic processing commands you create can be registered to function keys, menus, or the tool bar.
This enables a shortcut, and you can then carry out this automatic processing by simply clicking on the icon or command on the left side.
Up to 10 shortcuts can be registered on the tool bar.


Timer Interval Function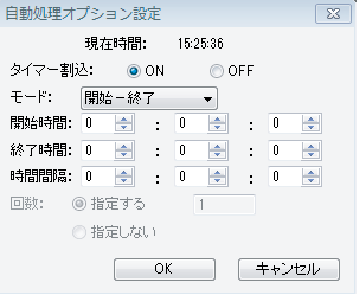 This interval function executes repeated automatic inspection at regular intervals.
This allows the user to measure the change of objects over time.
In addition, thise timer function is useful forto preventing measurement omissions.

Application example for the automatic processing tool.
(1)Using the timer interval function linked to the camera enables time-lapse photography.
The camera takes a picture at the specified interval,enabling batch processing analysis to meet the needs of the user.
For instance, you can view how the feature values of captured object s changes by analyzing every frame consecutively.
*Please contact us for information about compatible camera models.



●Macro measurement architecture is available as a premium option.
Please contact our company staff with requests.
(2)A large quantity of acquired images can be batch-processed in the same measurement environment (image size, magnification, etc.).
This provides great improvements in working efficiency.

(3)Anyone can measure the same data at the press of a button by using function key registration.
For example, just pressing "F1" can execute process A, or just pressing "F2" can execute process B.
All you have to do is press the registered key.
By combining a complete set of analysis functions, anyone can easily carry out the optimal processing procedure.