Patholoscope features
Patholoscope is an analysis software program for pathological images developed through the use of our proprietary core technology. This software was designed with the goals of being simple to operate and lightening the workload of pathologists. Supports pathologists by carrying out automatic analysis of Ki-67, ER/PgR, and HER2 images.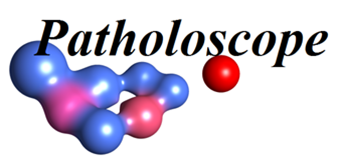 Powerful support for pathological image analysis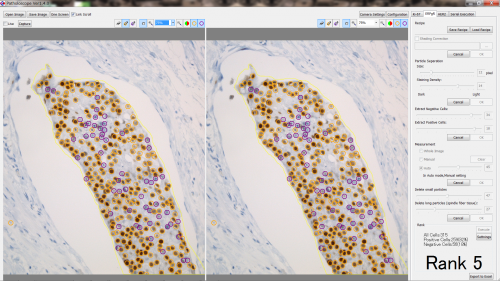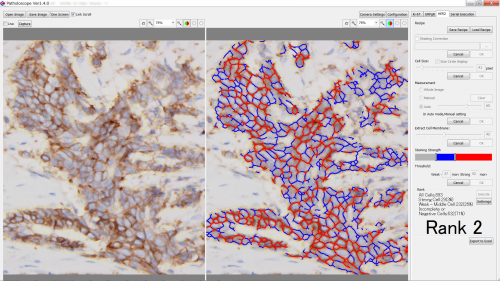 This software is designed for the subset of image analysis within pathology organizations' diagnostic work that uses the immunostaining technique, and provides support for the diagnoses below.

Up until now, this kind of image analysis through microscopy was an extremely time-consuming process, but with this software's image capture and analysis support functions, the entire process can be carried out in seconds, lightening the workload of pathologists.
Through the use of proprietary algorithms built up over our long years in business, this software performs counts with a high level of precision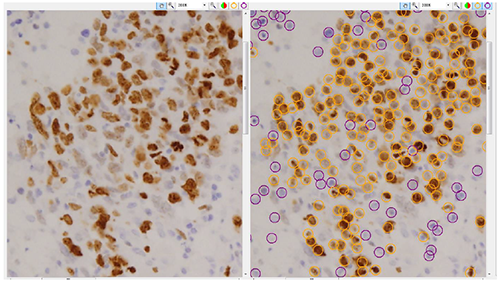 Problematic elements like weak negatives for cell membranes and overlapping cells were impossible to process with prior software, but with our proprietary algorithms even those difficult counting operations can be completed. For a single image, it takes approximately 5 seconds for results to be output.
Parameters can be set individually for each facility to match diagnostic standards
In order to handle differing staining methods and diagnostic standards at different facilities, software parameters can be set individually for each facility. Also, by setting universal standards for all pathologists, variations in diagnoses can be minimized.
Comparison function for original images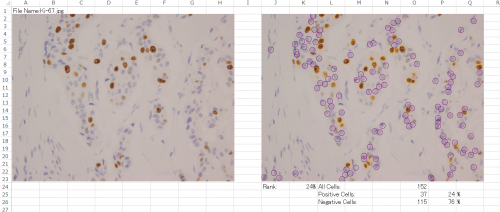 Includes a function that displays the count images and original images side by side so that pathologists can provide final confirmation after technicians use the software for analysis. This is useful for getting patients' informed consent.
Linking with camera equipment you currently own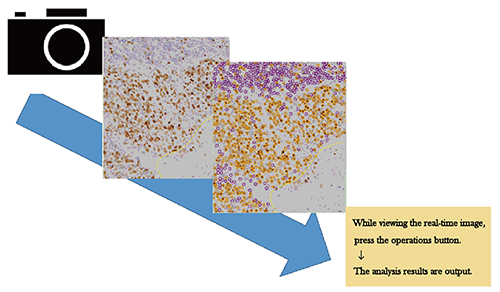 This software can be linked to a variety of microscope digital cameras. Process the required areas while viewing microscope images in real-time. *Confirm compatibility for your camera equipment.
A study set is available for researchers' use
The study set is a package bundle including our Patholoscope for research use and WinROOF 2015 image analysis software, at an extremely discounted price.